More and more couples choose an "elopement wedding" to celebrate their wedding day. But, what is an elopement really? What are the advantages and disadvantages? And how do I plan an elopement after all? Strauß & Fliege gathered all the relevant information for you.
Let's go and see the stars
The milky way or even mars
Where it could just be ours

Let's fade into the sun
Let your spirit fly
Where we are one
Just for a little fun
Oh oh oh yeah!

I want to get away
I want to fly away
Yeah yeah yeah

Lenny Kravitz "Fly away"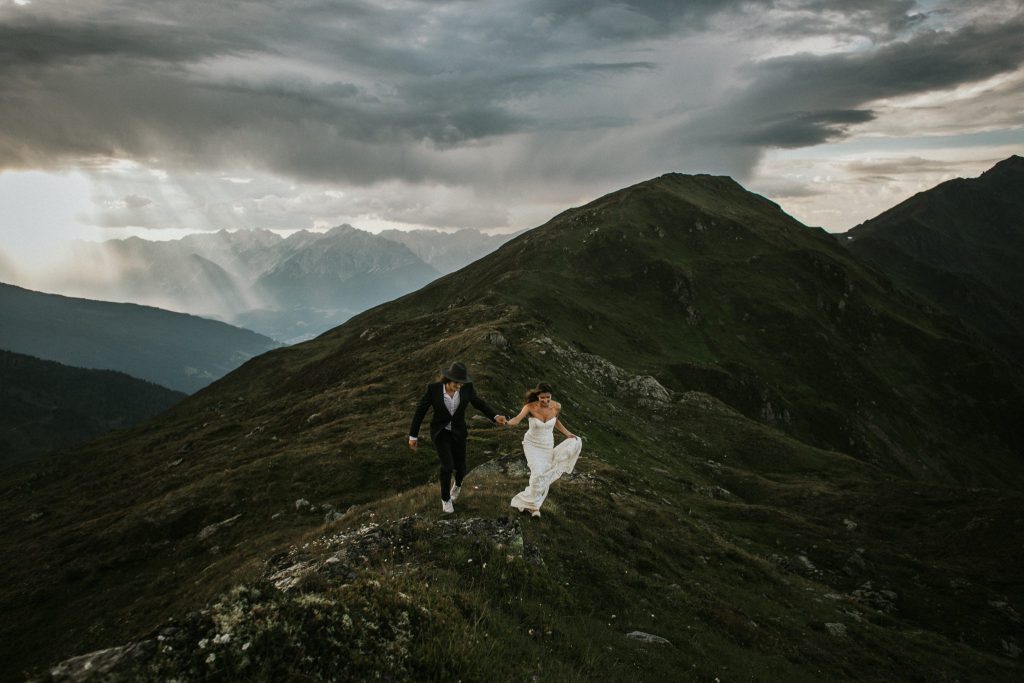 Seating plan and guest list, Excel sheet and budget calculations … Who doesn't dream of this sometimes? "Honey, just you and me? Getting away?"
What is an elopement wedding?
"Elopement" means something like "running away". With regards to a wedding, it means to escape the hustle and bustle of the wedding planning and just get married as a couple (or with a very small group of people).
Great Locations for your small wedding
The most famous version of an elopement is the Las Vegas wedding. Typically, with a drive-in chapel and Elvis as officiant.
Of course, this is not all there is. With an elopement you can basically marry anywhere. Most couples combine their small wedding ceremony with a small vacation like a city trip, or an adventure day like a hot air balloon ride.
Known service provider like Jochen Schweizer have several interesting offers to inspire you! (*)
Here are some ideas and suggestions for elopement wedding locations:
Hotels with beautiful outdoor areas or gardens
restaurants at the shore of a lake
your favorite city park
in the middle of the night in the woods under the stars
grandma's garden
on a boat or raft
in a hot air balloon
at the beach
in a mountain cabin with georgeous panoramic view
As long as you can get there (and it isnt private property), almost every location is a potential elopement location.
Talk to your elopement service providers – like the photographer, musician or ceremony master. They often have great ideas and insider tips for you!
In this Video our wedding speaker Lucia Sittenthaler accompanied her wedding couple to a mountain lake in Tirol, Austria:
As a result, you do not only have peace of mind on your wedding day but also stunning pictures to show off afterwards.
The important thing is:
It is still a wedding and it should have the appropriate value and the necessary depth that such a celebration deserves. We therefore advise you to do the same as our couple in France and to take a wedding speaker from Strauß & Fliege with you to your Elopement Wedding. The speaker will accompany you throughout the preparation of your favorite day and can thus guarantee that your private ceremony will turn into a real wedding.
One legal notice must be passed on however: An elopement does not replace the registry office. Just as any free wedding ceremony, an elopement is a beautiful but not legally binding event. (For more information see here.)
What are advantages of an elopement wedding?
The advantages are obvious and many. Quite obviously, an elopement has positive effects on the budget as well as the stress momentum. But there are other more valid reasons to consider an elopement. We have gathered the 4 most relevant ones for you here:
Advantage no. 1: Focus on what really matters
More important than the monetary aspect is that you enable yourself to focus on what really matters on this day: You!
Yes, absolutely, it can be wonderful to celebrate a wedding with friends and family. We do not want to criticize the idea in itself! Yet very often we fell that some couples throw the big party not for them but for everybody else meanwhile they would prefer to have a private moment at the beach or in a mountain cabin.
Advantage no. 2: Your favorite service provider is still available
Another advantage is that you really get the most popular service providers for your wedding, because with an elopement the day of the week doesn't really matter. This means, you can get married on a Wednesday afternoon in a relaxed manner and thus defeat popular weekend dates in midsummer.
Which comes in handy especially during Covid-19: Due to the cancellations and rescheduled weddings next year, most locations and service providers are already booked.
Advantage no. 3: Beat that Covid-19!
Talking about pandemics … In times of Corona, a wedding is only possible in a small group. Suddenly, an elopement seems to be THE solution and predestined for the current situation: If you go to an enchanted place that only belongs to you, your photographer, a speaker and possibly a musician, group sizes are secondary.
Furthermore, you can get married right away and you don't have to wait for the next season.
If you are interested in further "Covid-19 wedding options" please read here.
Advantage no. 4: Elopement and big party do not exclude each other!
You see: Elopements have only advantages. However, if you still want to get married with your friends and family, then you can also combine small and intimate elopements with a big party: Why not just do the elopement for just the two of you during the week and then celebrate with your friends and family on the weekend? This event used to be called "hen party" (even if it was before the day of the civil wedding). Or you elope this year and then party with all your loved ones for your 1st wedding day anniversary!
Your options are manifold, let's talk about what fits you best!
First-hand experience
Hey, if you still have doubts, you should read this small review of Tanja and Andreas, who eloped to the Scottish Highlands last year:
Just now we are finding ourselves in the Scottish highlands – Why? Well, you see, as a wedding photographer couple we are allowed to see a lot of a couples most-beautiful-days, all around the year. Big and small weddings and for us it was absolutely clear that we wanted to have a simple and intimate wedding ceremony for our great day. Eloping to Scotland was quite a beautiful idea and has turned into a stunning reality.

Now, step by step, we make our way up to the small platform that we have chosen as a place for our ceremony. Now we are standing here next to each other in the hilly landscape, the only dedicated and companion is Dylan of The Kitcheners, who captures the incredible pictures for us. It's cold, and you can feel the raindrops on your skin. This tingle when you take your partners hand and both of you know what is going to happen. Finally, we can say the words that we have settled and written down.

What an overwhelming feeling – it is just us kissing, cuddling, and never wanting to let go of each other.

Back at home, we received the pictures and were once again immersed in the emotions on this rainy, beautiful day. We were more than overwhelmed by Dylan's humanity, his empathy, and then our breath caught as we saw our pictures for the first time. If you recognize yourself in the pictures. If you know it was the right decision!

Tanja & Andreas
How to plan an elopement?
In order to capture your elopement appropriately, Strauß & Fliege works with selected photographers, such as
Their work speaks for itself, just take a look at the website and be amazed at how you can capture emotions so wonderfully: For example, here is a elopement mountain wedding with our wedding speaker Marina Danner.
Interested? How could you not?
Just send us a quick and message via office@straussundfliege.de or use the contact form at the end of the page.
We get back to you personally, to find out how we can help you best. Not binding and for free, of course!
Strauß & Fliege accompanied elopements as well as international weddings and bilingual ceremonies before and we can guarantee you:
It is something special!
Check out this awesome elopement wedding video