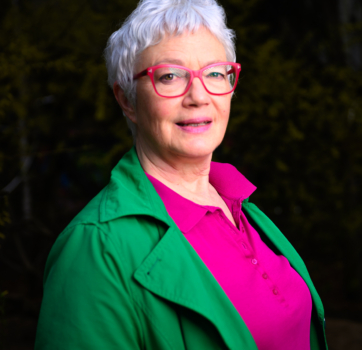 Steckbrief
Canadian and
at home
in Munich
author/Illustrator
of graphic novels
mother of a
back-garden
all-ages artists'
colony
occasional mermaid,
constant cyclist,
eternal optimist
hugged by
Beatle George
---
Kurzvorstellung: Bilinguale Traurednerin Twyla Dawn Weixl aus München
Hello, young lovers of all ages and persuasions! My name is Twyla Dawn.
I am Canadian and have been based in Munich for the past four decades, where I've discovered the joy and satisfaction of creative collaboration, working in film, tv and print.
My focus now is applying everything I've learned to working together with couples who passionately want to create a unique wedding ceremony. Couples who want to make their very personal ceremony shine, by hearing their unique story told eloquently and meaningfully.
If your story is waiting to be told, I can do that, with you and for you, your family and friends. In English. Or English und Deutsch. Un peu de francais est aussi possible.
I see getting married as an expedition to the source of life, a challenging expedition that can benefit from a trusted guide: a wedding speaker.
Native speaker Twyla Dawn Weixl writes your personal wedding speech
To get to the heart of your story, we meet in person and have an in-depth conversation. I'll ask questions which might surprise, confound or delight you. Imagine this conversation like sitting around a glowing camp-fire with trusted companions. In the warmth generated by our shared commitment to your story, you and your partner can relax and get in touch with what matters most to you about each other.
And what matters most flows into my wedding speech for you.
Let's say it's the Big Day, which has been lovingly planned. You might be wondering how I'd respond if anything went wrong… I have two very effective strategies: gracefully minimize the fallout and carry on, or grab it- and celebrate it with humour. Both approaches were needed, often, at my wedding – I really wish I'd had a wedding speaker at my side. Then my freshly-wed husband and I would've spent less time putting out fires during that unique day and more time in deep connection with each other – which is the whole point, right?!
(We'd organized a garden wedding. Our catastrophes included a sudden violent rainstorm which forced a last-minute venue change. Our passionate-honeymoon-themed cake shocked several aunties speechless. And our Irish dance band arrived too early and raided the unguarded bar. Their hoots and shouted toasts punctuated our ceremony…)
What to know about Twyla Dawn Weixl?
As the daughter of a Starfighter pilot (RCAF) in the Cold War, I've experienced many shades of conformity and freedom. I grew up on 11 air force bases on two continents, encountering vivid contrasts in culture, climate and communication styles: icy northern Canada, post-war Germany and France, technicolour California. Adapting quickly was expected. I find my feet in new situations quickly and being "on alert" is my normal. A life-long passion for reading has expanded my horizons even further.
The freedom of the 1970s brought road trips with friends across Canada and Europe, getting "back to the land" in hippie communes, questioning everything, living wild in the Rockies, flipping pancakes in diners, delivering mail through hip-high snow, wrangling actors' kids in an experimental travelling theatre troupe, studying film animation in Montreal… all the while writing and drawing my experiences.
And then, a fateful romantic visit to Munich in '79.
Your bilingual wedding speaker Twyla Dawn Weixl is based in Munich
Why have I made Munich my home-away-from-home? So many good reasons. I dove into work here drawing in-betweens for animation studios, then took a giant leap onto the special effects team creating the fantasy creatures for The Neverending Story I, at Bavaria Studios. (My first film credit!) Experiencing the scale and glamour of Germany's first world-class SFX film production, combined with my privileged behind-the-scenes view of production realities, taught me to look beneath the surface, where often the most interesting story is unfolding.
This fascination for collaborative creativity intensified when I was hired as the production designer for the weekly hit music show, Formel Eins. I designed sets, LP covers, the logo -and met performers like Stevie Wonder, Cyndi Lauper, Nena, die Toten Hosen -and yes, Beatle George Harrison. These jobs involved intense team experiences. You can see more of my creative work here: twyladawnweixl.com
I am enchanted by how the mix of serious professionalism and hard work, leavened by inventive playfulness and fun, can bring out the best in everyone involved.
This is what can happen when I create and tell the story of two people who open their hearts to me.